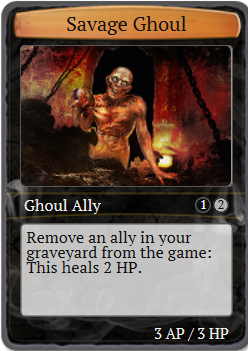 This card is the
Ghoul Lord
's little brother. It takes 3 energy to play (1 black and 2 normal). It's a fairly good unit at 3HP/3AP, and has the ability of eating dead allies in the Graveyard in order to restore 2HP. Like
Ghoul Lord
, you can feed it corpses with
Sacrificial Altar
to prolong its life.  With the
Ghoul Lord
, it can hold its own against a wide range of things, but doesn't have many special abilities or uses save for that.
Strong against: Just about any weak ally without any good tricks.
Weak against: graveyard-emptying decks (Like Ghoul Lord, Savage Ghoul can't heal if the graveyard is empty) and filler decks with many cards in play at once.
Ad blocker interference detected!
Wikia is a free-to-use site that makes money from advertising. We have a modified experience for viewers using ad blockers

Wikia is not accessible if you've made further modifications. Remove the custom ad blocker rule(s) and the page will load as expected.