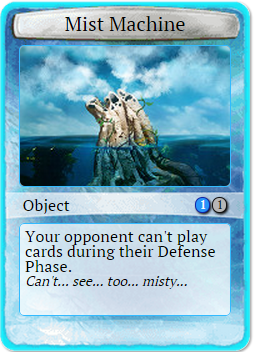 Mist Machine is a 2 energy blue object that makes the opponent unable to play cards during their
defense phase
. Because this has no way of impacting the board (removing cards), it is dangerous to include in your deck. However, there are not many cards that can allow you to know you are going to win when you attack for lethal damage. This can do exactly that when paired with
Swamp Witch
,
Slime Rain
, or even
Sneak Attack
.
It is often a good idea not to play it until you are ready to win, as a Fresh Force could ruin all your plans if you play Mist Machine too early.
Strong against: Control decks
Weak against: Aggro decks
Ad blocker interference detected!
Wikia is a free-to-use site that makes money from advertising. We have a modified experience for viewers using ad blockers

Wikia is not accessible if you've made further modifications. Remove the custom ad blocker rule(s) and the page will load as expected.