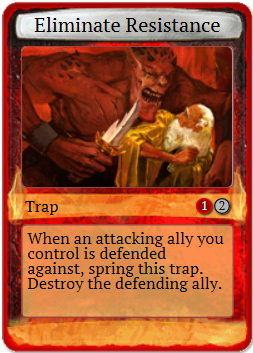 Eliminate Resistance is good in the late game, when you have one or two weak allies in play, your opponent has a raw-stats heavy ally, and you consider yourself dead. Just bench Eliminate Resistance and watch as your unsuspecting opponent defends against your tiny
Worker Ant
, which somehow manages to get rid of their big, scary
Maneater
. Think of it as the three little pigs versus the big bad wolf-- in the end, the little pigs outsmart the wolf, and end up making him into a soup. Similarly, your "three little allies" use Eliminate Resistance as a smart means of getting rid of the big, bad, scary tank ally on your opponent's side.
Strong against: Quality decks (with strong allies in small amounts, usually depending more on actions and objects) and milling.
Weak against: ally-heavy decks where the loss of one ally won't really matter.
Ad blocker interference detected!
Wikia is a free-to-use site that makes money from advertising. We have a modified experience for viewers using ad blockers

Wikia is not accessible if you've made further modifications. Remove the custom ad blocker rule(s) and the page will load as expected.